The damage of adverse weather conditions is considerably high to construction sites, workers, and high-powered machines such as tower cranes. Therefore, it is necessary to consider the monthly and hourly weather conditions of the region when planning for a construction. Historical regional climate research is an extremely popular subject of study by national meteorological offices, private sector, and academic institutions.
Alkazar can obtain historical regional climate data for any place in the world from international organizations, and to make it meaningful for users by generating and processing using numerical methods. In this context, it provides graphs and reporting services for the construction industry, using advanced data and cloud technologies along with advanced mathematics and physics, to interpret regional climate data of the historical period.
Format of monthly workability agenda
Wind speed is one of the most critical parameters especially for the operation of tower cranes. The operation of cranes and lifting equipment at speed values above a specified limit is risky in terms of occupational health and safety.
Extreme cold weather conditions can damage the parts of working cranes. Therefore, work should be done in a temperature range depending on the crane type.
Working at low visibility in cranes can have bad results. It is important to stop working, especially in very foggy weather. Since fog is formed depending on many parameters, this meteorological event is not easy to calculate. However, it is possible to estimate the risk of occurrence with the assumptions to be taken. Low temperature and high relative humidity values which is caused by low temperature, towards morning can increase the possibility of fog. In this context, the risk of fog is high when the relative humidity is high, the dew point difference is low and the wind speed at the ground level is only enough to mix the humidity in the air.
The presence of thunderstorms is dangerous for both cranes and workers working on construction site, especially due to the risk of lightning. CAPE (Convective available potential energy) points to a possibility of severe storm and gives more accurate results than the other index types for Turkey. Therefore, it can be estimated whether a convective activity will occur from the CAPE index.
At the same time, the high amount of precipitation is also very important for the working safety of both workers and cranes.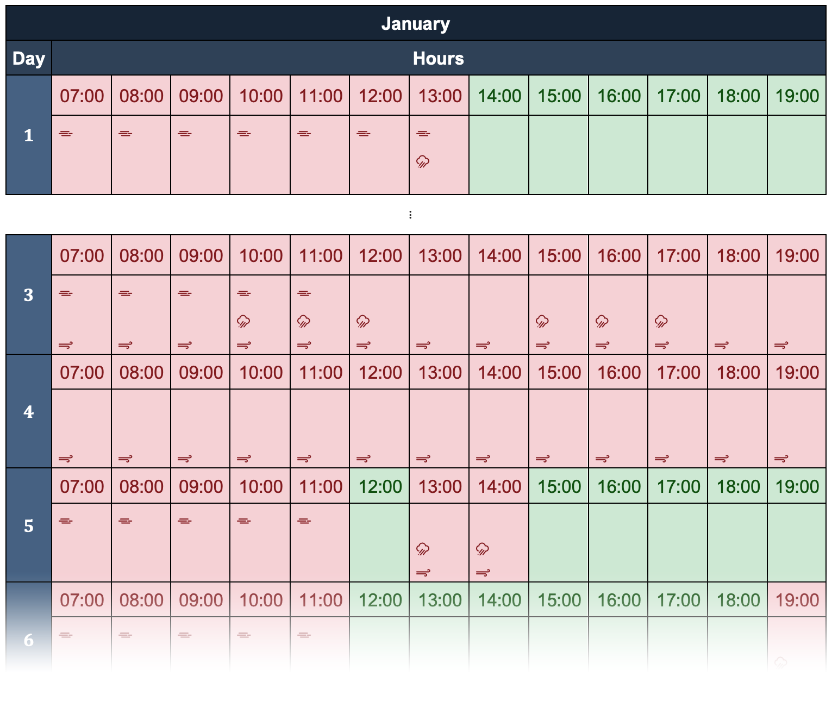 Hourly sample output format of non-workable days