Thanks to climate data (re-analysis) that can be generated for every region on demand in the world, we can evaluate the critical and necessary conditions for the design of your project together. While the importance of climate data for comfort conditions increases day by day, we are able to evaluate data for design criteria to be determined according to critical conditions.
The climate data produced by meteorologists and numerical modeling team up to the past 40 years is already providing data analysis support for many different sectors as top services of Alkazar Technology Company.
Combining comfort and energy consumption from meso scale to detail in a room
Carrying out climate-based data analysis studies for the aviation, agriculture, insurance, energy, construction and entertainment sectors, and maturing data under the roof of Alkazar Technology support, Alkazar also undertook the data supply business for all building construction projects.
Thus Alkazar Technology;
Choosing the right runway location for airports,
Optimization of flight routes according to climate data,
Land irrigation, from sowing time to logistics of end products,
Reporting rain and lightning intensity risk maps,
Development of complete algorithms for wind energy generation,
The project has been able to respond to the right climate-based project investment for the whole world or to report the most accurate climatic conditions for investment.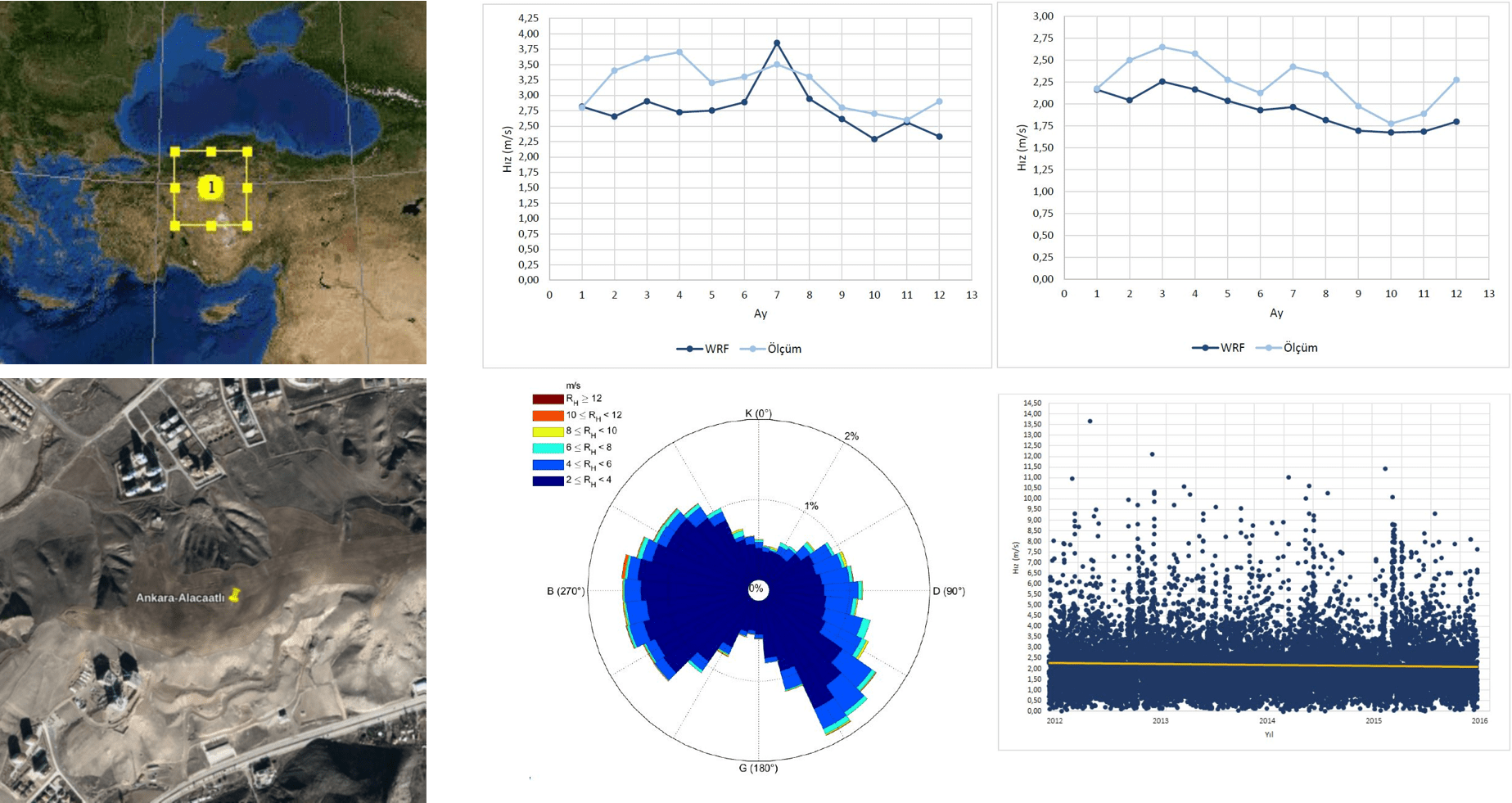 Historical climate data production for each region in the world (wind, snow, lightning, etc.)
One of the information needed by urban strategic planning carried out at city or local municipal scale is climate data. It is known that climatic conditions affect all users in determining the location for the investments to be made or allowed for the activities to be held. In addition, detailed analysis of historical climate data and building intensity together will allow the interpretation of the long-term effects of regional climate change. Thus, measures or innovative approaches can be provided for planning future livable cities.
The first condition for almost all of the studies carried out by Alkazar is the climate data to be determined. For example, if facade loads due to wind velocity are to be calculated, the historical basic wind speed for the region should be determined. But if you do not have any measuring station or data on it, then the most qualified data will be the production of this by numerical modeling.
Or if you are going to do an energy consumption calculation for an office building, you need to know your critical design criteria. These values are determined for certain cities in local standards. However, if your building is located too far from the city center or within the densely populated area, ie in the micro-climate zone, revise the design-specific design criteria; it affects both energy costs and comfort levels.
While determining the ideal conditions for the design with historical data, with the estimation data; there is a possibility of preparation for many different scenarios likely to be encountered by facility managers. For example, instead of the city-wide forecast data for your project, we have customized forecast data output for your building. Thus, the organization of operating hours of the air conditioning device, which is much more critical for a structure trapped in the heat island, can provide comfort and energy savings together.

We can provide solutions with our partners for climate-based risk map of your local area, investment area or production facility
In building physics analysis;
Having the necessary climate data directly for your project area (ventilation, air conditioning, daylight information, etc.), constructing passive techniques ideally,
Understand the role of wind and sun in the project and ensure the production of project content supporting low-carbon footprint and urban development strategies,
Providing the opportunity to predict what can be done at the first stage in order to create pleasant, internal or external living environments,
Let's move together for more livable and climate-adaptable designs!